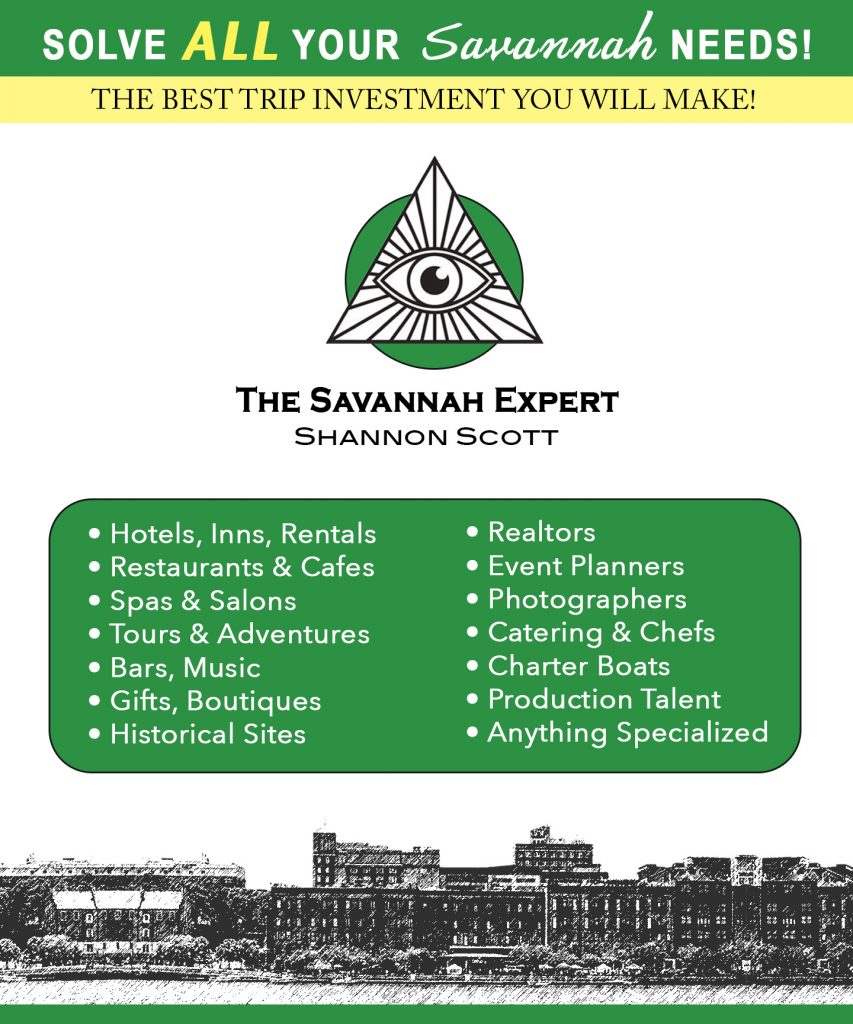 Shannon Scott IS The Ultimate Insider!
Do U Need Expert Insights For Your Savannah Trip?
Want The-Off-The-Beaten-Path Advice?
Turn Your Uncertainty Into On Point Certainty!
Get The Information You Need In Matter of Hours!
 No Need Too Large or Too Small – Just Ask!
Remember, EVERYONE wants your money in a tourist town like Savannah but not every product is worth your time! Shannon will design an itinerary tailored just for you!
Whether your a business person, a family, a honeymooning couple or just here like so many with family and friends, Shannon Scott has The 411 On EVERYTHING Savannah and The Low Country and a reputation you can trust!
Shannon has the intel on What To Do, Where To Stay, Where To Eat & Where to Play and continues to stay on the pulse of who's succeeding and who's not, with up-to-the-minute insider track to local establishments!
Remember online and published reviews have a shorter shelf life than ever before & its often that on-the-ground insider who can steer you clear of the pitfalls, traps and keep your vacation or work travel investment on track!
Your Consultation
Shannon will interview you by phone for 30 to 45 minutes about your visit and it's requirements and ambitions.
He will spend 1 to 2 Hours designing for you a special itinerary or "Greatest Hit List" based on what he thinks are the most ideal businesses and activities, including any relative business hours, contact names and other pertinent details or nuances to maximize the success of each endeavor.
If you need answers on the fly or something faster? Shannon will happily expedite the process as we understand sometimes life demands it!
BUY NOW: $199.00*

Book Now

*Please note that extra services beyond the described here also available and may require additional hours and costs but can be discussed as needed!

Savannah Expert Bio:
By the time Shannon Scott was 25 years of age, he realized his dream of opening up his own publishing company. He went on to publish The Savannah & Tybee Map, The Savannah Map of Art Galleries, The Savannah Map of Antiques Dealers, Savannah@HOME and not least of all, his personal favorite, The Foodies Guide! All of this background became prep-work that you can get the maximum benefit of!